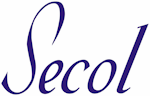 POSITIVE AND DEFINITIVE
ARCHIVAL PROTECTION

GIVING THE PAST A FUTURE

Just about all of us possess unique archival material, kept for hobby, professional, financial, or sentimental reasons. Whatever the value of documents, photographs, pictures, postcards, maps, labels, stamps, coins and other various precious memorabilia is, you may find it important and worth taking time and effort to ensure they stay in the best possible condition for the future.
Whether you are a private or professional collector, family historian, librarian, archivist, photographer or conservator, you will find many useful items on our website to protect your media.
SECOL is proud to supply the best quality Archival Polyester Enclosures in the world and our Polyester acid-free Film perfectly fills the often conflicting needs of conservation, protection and accessibility. It is a chemically inert, extremely clear and immensely strong material which uniquely combines security, long-life functional use and versatility for all kinds of material formats.
We do our best to hold the widest range of our products in stock to provide you with prompt delivery. We are also able to discuss your own ideas whether they are about a special size, colour, or shape, while still maintaining the highest quality of both our manufacture and service. Please do not hesitate to mail or telephone us with your BESPOKE requirements.
Our competent and friendly staff are available from Monday to Thursday 9am - 4:45pm and Fridays 9am – 2pm to offer outstanding customer support, advice and additional information.