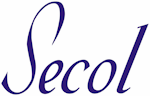 POSITIVE AND DEFINITIVE
ARCHIVAL PROTECTION

GIVING THE PAST A FUTURE

Secol was established in London in 1958 by Bertram Edward Charles Green and the company name arose from his deep vision and desire to enable people to see colours of precious archival collections and memorabilia.
After The Second World War, most of the Museums and Archives were looking for a better solution for preservation of their vulnerable materials. Consequently, Polyester became a perfect medium for protecting, storing and presenting materials, whilst allowing their true colours to be seen.
The Company was relocated to Thetford in Norfolk in the 60's where it remains today, in a custom built factory. In 1992 Secol Limited, was awarded the Royal Warrant, for the supply of Archival and Photographic Storage Products to Her Majesty Queen Elizabeth II.
Many have tried to emulate its success but Secol Limited is still the unbeaten market leader.
To keep meeting today's requirements, the company has recently undertaken significant capital investment in new machinery, allowing the range of products to be increased.
Now, Secol supplies archival products to the some of the world's foremost galleries, museums and photographic libraries, as well as to a wide range of private collectors and history enthusiasts.
We are proud of our loyal and well trained workforce and this cannot be overvalued in the current uncertain times. All these factors play a key role in Secol maintaining its mission to treasure the past in the best possible way and to save it for future generations.