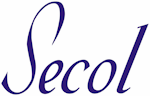 POSITIVE AND DEFINITIVE
ARCHIVAL PROTECTION

GIVING THE PAST A FUTURE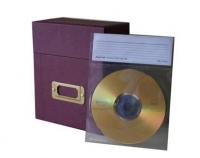 CD Indexed Archive System
The Secol CD Indexed Archive System comprises inert, archival Polyester based pockets, each with a separate index card section at the top.
50 pockets can be stored in the neat, flip-top archive box, where the index cards can be "flicked" through in seconds to locate a particular disc by numbers, key-words or even thumbnail prints.
In addition to providing the safest of passive environments for your valuable data and the fastest physical retrieval times, the system produces up to 80% saving in space required.
The small "footprint" of the "D-S" archive box also offers the facility for it to be placed next to your computer whilst it is being used, and it can also be readily transported or locked away in a safe location when not required.
Code
Name
Overall
Dimensions
Format
Application
Material
Pack
Ex. VAT
Inc. VAT
DS02
CD/DVD Pockets With Index Cards
130 x 176mm
44 x 122mm

CD, DVD storage

Secol Polyester

25x
£13.15
£15.78
DS01
Flip Top CD/DVD Storage Box Maroon
135 x 95 x 180mm
135 x 95 x 180mm

DS02, CD/DVD Storage

Maroon flip-top archive box

1x
£17.50
£21.00
DS01BK
Flip Top CD/DVD Storage Box Black
135 x 95 x 180mm
135 x 95 x 180mm

CD/DVD Storage

Black flip-top archive box

1x
£17.50
£21.00