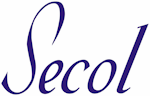 POSITIVE AND DEFINITIVE
ARCHIVAL PROTECTION

GIVING THE PAST A FUTURE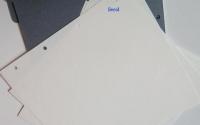 Archival Interleaves
The Standard Interleaves without Tabs are made of acid-free 160gsm Alpha cellulose paper. They are ivory in colour with a slight calcium carbonate buffer.
The Interleaves are useful as a protective and visual barrier between pages and / or sections of FILING PAGES FOR INDERS & PORTFOLIOS They may also be used for annotation of the collection when appropriate. Standard Interleaves without Tabs in A4 and A3 Formats are available in packs of 25 and 50.
Interleaves in Panoramic, Certificate and any other formats are available as Bespoke Service.
Interleaves with Tabs are acid-free and made from 1300 Micron 4-hole punched sheets. They are available in blue-grey or taupe boxboard. They are available in any size as well so can be use for separating sections, annotating and indexing any formats of stored material.
Interleaves With Tabs in A4 and A3 Formats are available in pack of 8.
Code
Name
Overall
Dimensions
Format
Application
Material
Pack
Ex. VAT
Inc. VAT
ASINLPWQ
Interleaves A4 Without Tabs PK 25
320 x 260mm
A4

separating, annotating, indexing

160gsm Ivory Board

25x
£11.85
£14.22
ASINLPW
Interleaves A4 Without Tabs PK 50
320 x 260mm
A4

separating, annotating, indexing

160gsm Ivory Board

50x
£16.85
£20.22
INLPWA3Q
Interleaves A3 without Tabs PK 25
440 x 340mm
A3

separating, annotating, indexing

160gsm Ivory Board

25x
£19.45
£23.34
INLPWA3
Interleaves A3 without Tabs PK 50
440 x 340mm
A3

separating, annotating, indexing

160gsm Ivory Board

50x
£27.90
£33.48
IPD8A4B
A4 Interleaves With Tabs Blue-Grey PK 8
320 x 280mm
A4

separating, annotating, indexing

1000 Micron Blue-Grey Board

8x
£5.65
£6.78