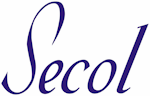 POSITIVE AND DEFINITIVE
ARCHIVAL PROTECTION

GIVING THE PAST A FUTURE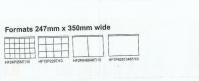 Hanging Files 247 x 350mm wide
Wide Format Hanging Files are available as clear and colourview.
The Pages give long-term archival safety and protection against physical damage, surface reaction and atmospheric contamination and with the superb clarity of window glass they offer unsurpassed optical rendition to the viewer.
In specifying dimensions of items listed below the open site is always the first dimension.
A-S FORMATS 247 x 350mm wide are available as 1 pocket, 2 pockets, 12 pockets and 24 packets Pages.
Code
Name
Overall
Dimensions
Internal
Dimensions
Format
Application
Material
Pack
Ex. VAT
Inc. VAT
HF2P648848T/10
Wide Format 2 Pockets Files / Clear
247 x 350mm
2 Pockets 170x212mm
2 x 170x212mm

170 x 212mm material

Secol Polyester

10x
£9.05
£10.86
HF2P648848C/10
Wide Format 2 Pockets Files / Colourwiev
247 x 350mm
2 Pockets 170x212mm
2 x 170x212mm

170 x 212mm material

Secol Polyester

10x
£9.05
£10.86
HF24P35MT/10
Wide Format 24 Pockets Files / Clear
247 x 350mm
24 Pockets 54x49mm
24 x 54x49mm

35mm mounted slides.

Secol Polyester

10x
£8.20
£9.84
HF24P35MC/10
Wide Format 24 Pockets Pages Colourview
247 x 350mm
24 Pockets 54x49mm
24 x 54x49mm

35mm mounted slides.

Secol Polyester

10x
£8.20
£9.84